Charlie Pfrunder
Charles Joseph "Charlie" Pfrunder
Riverside

Written by Sue Poole.

Charlie "first began working at Rohr doing resistance welding on Dec. 11, 1940." He worked in resistance welding and assembly, then as a Foreman, and later as a Supervisor in Dept. 063. He retired from Rohr in 1983 after 42 years of service (Rohr News, Mid-Jan. 1983, p. 4). His hobbies included photography, camping and fishing.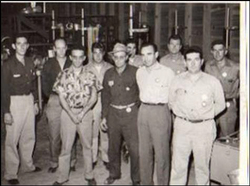 Spot Weld Department. #4 Don Poole, #7 Charlie Pfunder, #8 Zig Thomas, #9 Louis Picherri. Photo: DT Poole Family Private Collection.
References:

"21 People Retire from Rohr-Riverside." Rohr News, vol. 26, no. 2, Jan. 1983, p. 4.



See also:
Opinions expressed on these pages are not necessarily those of the site owner.
All content is ©2006-2023 Rohr Aircraft Memories unless otherwise credited or a vintage reprint.
All rights reserved. Unauthorized use of material is prohibited.
Contact Sue with questions or comments. Website address: rohrmemories.com