Rolland Hines
Rolland Hines
Rohr Riverside
My Uncle Rolland was born in 1917 in Junction City, Kansas. Rolland married Twila on July 21, 1938.
Before moving to Riverside, Rolland belonged to the Eagles in Kansas, his boss paid his dues. I
n May of 1953, Cora and Ken Goodwin came back to Kansas and told Rolland to come to California. Rolland left Kansas to drive to California on August 22, 1953.

Rolland started at Rohr on September 1, 1953 in Cutting and Drop Hammers. When the drop hammers moved to Chula Vista he went to work in Core Cutting. He had been at Rohr for a year when Rohr had it's first strike. He did not picket. Fred Rohr talked to the Riverside guys in the picket line. Fred Rohr was a a family man, and Rohr was a good place to work. The strike went on for 6 weeks. The union rented elephants and camels. Their foreman let them off ten minutes early to clock out at the gate. Rolland ran the saw for 3 years. He cut pipe for the C97 tanker airplane and the C135.
He worked with Walter Henderson in Cutting. Guzman taught him how to run a router.
Rolland worked the grave yard shift as a Honeycomb Core Cutting Supervisor. In 1968 he was a Leadman and then became a Supervisor in 1969. He worked the graveyard shift for 6 1/2 hours but got paid for 8 hours. He was a member of the Moose Club, playing cards, with Ken Goodwin and Donald Poole. He retired on February 28, 1979. Rolland passed away of a heart attack on March 15th, 2015 age the age of 98 years in Oxnard, California.

Sources:
Rolland Hines, telephone interview, 11/13/2013
Rolland Hines, in person interview, 12/28/2013
Submitted by Rolland's niece Sue Poole, July 12, 2015.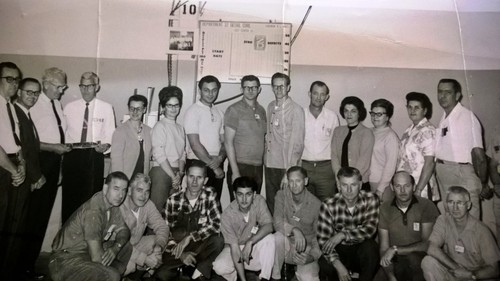 Rohr Riverside 1965.
Rolland Hines is 4th from left holding the Performance Award.
(Rolland Hines collection.)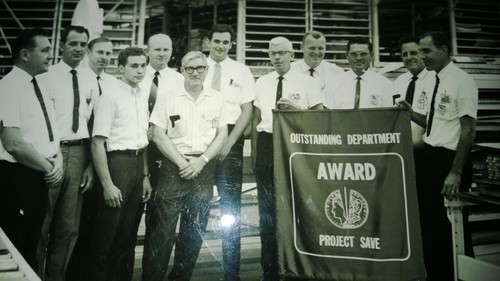 Outstanding Department Aware. Project Save.
Rolland Hines, 5th from right.
Photograph was taken when Rolland's department moved into the new building, circa 1967-1969.
(Rolland Hines collection.)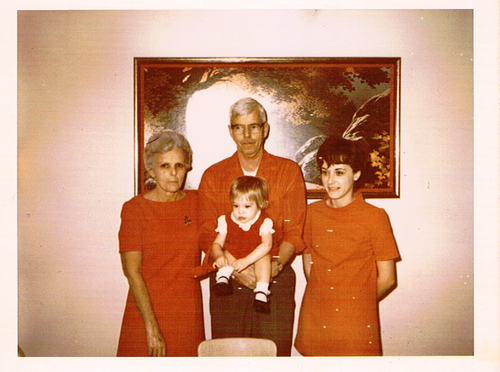 Christmas 1970, Riverside, California.
Twila and Rolland Hines with Sue and Carol Poole (daughter and wife of the late Donald Poole).
Photograph courtesy Poole Family.
The Rohr Aircraft Memories website is owned by Sue Poole.
Opinions expressed on these pages are not necessarily those of the site owner.
All content is ©2006-2019 Sue Poole unless otherwise credited or a vintage reprint.
Last updated: 07-23-2019