Gil Beahan
Gilbert Lloyd "Gil" Beahan
Engineering & Development, 1944-1964
Rohr Chula Vista, California




Click on the photo to see a larger image.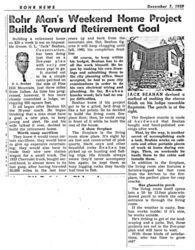 My Great Uncle
GILBERT LLOYD BEAHAN
worked in the Engineering & Development Division of Rohr Corporation from about 1944 until he retired in 1964. He called himself a "tool builder" and later referred to himself as a "retired Rohr patternmaker." According to the July 21, 1966 Chula Vista
Star-News
, Beahan said he was a "patternmaker (handling plastics), a researcher (developing plastic tools to withstand terrific pressures), and finally, a salvage sales supervisor." He was also a well known artist in Chula Vista. He passed away in September 1974.
The article, Rohr Man's Weekend Home Project Builds Toward Retirement Goal, above is from the December 7, 1959 issue of ROHR NEWS.
Submitted by Gary W. Beahan, July 10, 2010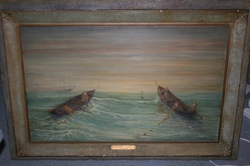 "Fisherman at Dawn" by Gil Beahan, 1968, Chula Vista
Submitted by Jose Martinez, August 23, 2013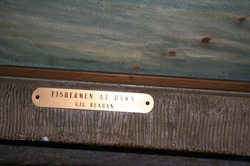 Editor's notes:

Mr. Beahan was mentioned in and photographed for The AeROHRcrafter in February 1952. "Rohr Aircraft employees respond generously to Gilbert "Jack" Beahan's appeal for funds in the current polio drive/" "Jack Beahan, seen circulating through the plant on a motor scooter, collected many dimes and dollars for a wonderful cause-The Polio Drive . . . Jack says: "I didn't need the machine gun. Everyone gave gladly. Many thanks for your cooperation" (The AeROHRcrafter 2, no. 9: 8, 23).
Opinions expressed on these pages are not necessarily those of the site owner.
All content is ©2006-2021 Rohr Aircraft Memories unless otherwise credited or a vintage reprint.
All rights reserved. Unauthorized use of material is prohibited.
Contact Sue with questions or comments. Website address: rohrmemories.com