James Riley Evans & Gweneth M. Evans
Riley Evans
worked at Rohr in Functional Testing, including testing the Thiokol rocket sections. Riley began working at Rohr on October 9, 1946 and retired on April 1, 1983.
Gwen Evans worked at the Rohr Credit Union. Both have passed away.





Their son still has "memories of Rohr Halloween carnivals, some in Chula Vista plant parking lot, some in what is now City of Chula Vista's Rohr Park, are happy. A box, somewhere, includes a lot of silver dollars, from a Friday Rohr payroll which was meant to impress on the City of Chula Vista very tangibly the impact of Rohr dollars on its economy. A different time when Rohr executives lived in Chula Vista like so many of its employees and a more paternalistic time when Rohr did well, its employees did well. Great memories of Dad's stories of "Pappy" Rohr stopping a strike by personally asking employees to return to work and of a later time, when I was in college, when a strike got ugly (after Mr. Rohr's passing).

"

Submitted by Hiram Evans, June 24, 2019.

Rohr pins - 5 year ruby, 20 year diamond, 25 year diamond, 10 year diamond, diamonds without years for 30 and 35 year anniversaries, Reflection of Achievement Rohr Pride, Boeing, and 15 and 25 year IAM pins.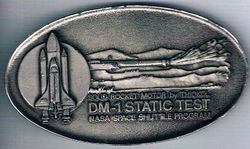 Thiokol Wasatch Division. Commemorating The DM-1 Static Test of the NASA Space Shuttle Solid Rocket Motor at Promontory, Utah. Summer 1977.
The Rohr Aircraft Memories website is owned by Sue Poole. Opinions expressed on these pages are not necessarily those of the site owner. All content is ©2006-2019 Sue Poole unless otherwise credited or a vintage reprint. Last updated: 06-29-2019