Rohr Fullerton
Rohr Aircraft Memories
"a website for the Rohr Retirees and Former Employees Club"
Architectural Division




The town of Fullerton

In anticipation of the California Central Railroad in 1887 brothers Edward and George Amerige purchased 390 acres from the Miles Estate. The Ameriges negotiated with George H. Fullerton to have the Santa Fe run through Northam Station to Fullerton. The town was named Fullerton in honor of the brother's new associate. Forty more acres were purchased and by the summer of 1887 the town consisted of 49 blocks or almost 1000 business and residential lots and 67 farm lots. By 1950, the population of Fullerton had reached 13,958, and by 1963 the population had climbed to 66,426 (Parker and Parker, 1965, p. 59, 84).
Rohr Fullerton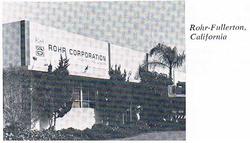 This photograph is from the Rohr Magazine Summer 1965 issue.
For articles regarding Borrego Springs homes, please click on the following links:
Rohr Magazine, Fall 1964

Further Reading:

Parker, C.E. and Marilyn Parker. Orange County: Indians to Industry. Santa Ana, California: Orange County Title Company, 1965.


The Rohr Aircraft Memories website is owned by Sue Poole.
Opinions expressed on these pages are not necessarily those of the site owner.
All content is ©2006-2018 Sue Poole unless otherwise credited or a vintage reprint.