Architectural Division
Rohr Aircraft Memories
a website for Rohr Retirees and Former Employees


Rohr Fullerton, California
Architectural Division
Modular Components Corporation - a wholly owned subsidiary of Rohr Corporation
Manufacturing Division
Written and compiled by S. Poole


Beginnings

In April 1962, Modular Components Corporation, a wholly owned subsidiary of Rohr Corporation, began manufacturing Modubilt bathrooms. In June of the same year, the first Modubilt house was erected in Riverside, California (1962 Annual Report, p. 16).

In July of 1963 the Architectural Division moved "into its new facility at Fullerton, California" which was equiped to produce up to 7 houses per day. Their first project was an order for 140 houses for a developer in Borrego Valley, California. They also erected 60 homes at Kaiser Steel's Eagle Mountain mining development near Indio. Homes were also expected in Las Vegas, Hawaii and Alaska. (Rohr Corporation 1964 Annual Report, p. 9).

"In October, 1963, we formed the Architectural Division from the former Modular Components Corporation, a wholly-owned subsidiary. The Division has continued its development program in the manufacture of houses, apartments, and building components at its new facility in Fullerton, California, and we are currently erecting homes and apartments in several areas" (Rohr Corporation 1964 Annual Report, p. 3).

The town of Fullerton

In anticipation of the California Central Railroad in 1887 brothers Edward and George Amerige purchased 390 acres from the Miles Estate. The Ameriges negotiated with George H. Fullerton to have the Santa Fe run through Northam Station to Fullerton. The town was named Fullerton in honor of the brother's new associate. Forty more acres were purchased and by the summer of 1887 the town consisted of 49 blocks or almost 1000 business and residential lots and 67 farm lots. By 1950 the population of Fullerton had reached 13,958, and by 1963 the population had climbed to 66,426 (Parker and Parker 1965, p. 59, 84).
Borrego Valley
Borrego Valley was an isolated and little known community in San Diego County until the 1930s and 1940s. It is surrounded by the Santa Rosa and San Ysidro mountains, comprising 80,000 acres of government land and homesteads, "planned and developed as an ideal residential, recreational, desert reort community." The planners took great care" to preserve the natural beauty and serenity of the desert setting." Borrego had a "reputation as the home of the early grapes" in the 1950s. In addition to grapes, alfalfa, cotton, corn, tomatoes, citrus, potatoes, flowers, peachers, beans, and garleic and onions were also grown (Brigrandi 2001, p. vii, 1, 3, 69-70, 81-82).

Borrego is famous for it's Christmas Circle, a business district that was slowly developed and by November 1950 included a supermarket, gas station, drug store, doctor office, post office, and more. stores and services, (Brigandi 2001, p. 71).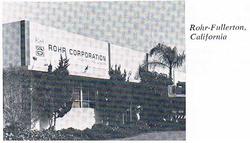 Rohr Corporation. Summer 1965. Rohr-Fullerton, California. Rohr Magazine, p. 17.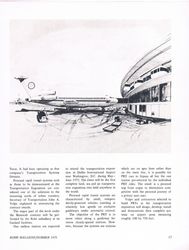 Modular Components Corporation's Modubilt houses.
Page 17 of Rohr Corporation's 1962 Annual Report.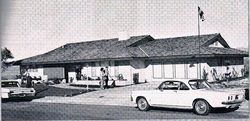 Rohr Corporation. Summer 1965. Rohr-Fullerton, California. Rohr Magazine, p. 47.
See also:
Presenting Rohr Homes

REFERENCES:
Brigandi, Phil. 2001. Borrego Beginnings: Early Days in the Borrego Valley, 1910-1960. Borrego Springs, Calif.: Anza-Borrego Desert Natural History Association.
Guerin, G. F. 1965. "Architectural Division." Rohr Magazine 15, no. 2: 47.
Parker, C. E., and Marilyn Perrin Parker. 1965. Orange County: Indians to Industry. Santa Ana, Calif.: Orange County Title Co.
"Presenting Rohr Homes." n.d. Fullerton, California: Rohr Corporation, Architectural Division.

Opinions expressed on these pages are not necessarily those of the site owner.
All content is ©2006-2022 Rohr Aircraft Memories unless otherwise credited or a vintage reprint.
All rights reserved. Unauthorized use of material is prohibited.
Contact Sue with questions or comments. Website address: rohrmemories.com