Glenn L. and Sharon McKenzie
Glenn L. and Sharon McKenzie
Rohr Riverside and Chula Vista


Glenn L. McKenzie (son of Glenn and Ione McKenzie) worked for 1 year in Chula Vista in Tool planning - draftsman in engineering Conair 880 contract Manufacturing Standards and one summer in Riverside while going to school - all in the 1950.
Sharon Kitchen (now McKenzie, daughter of John and Edith Kitchen) worked in Riverside for about a year in the Spares Department - one of her first jobs, about 1960. She was a senior at Poly High School in Riverside when the 1958 picture was taken at Rohr. She is the 4th from the front on the left. On Business Education Day students were paired up with ladies working at Rohr for a day experiencing the work world.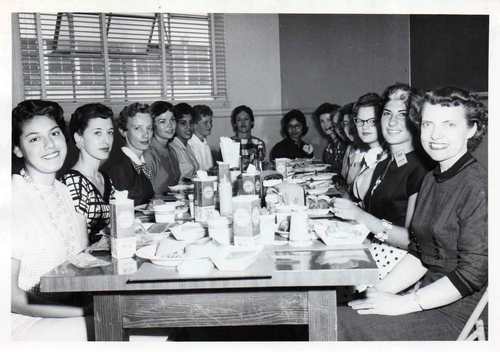 1958 Business Education Day. Rohr Riverside. Sharon Kitchen is the 4th from the front on the left. Submitted by Sharon McKenzie, 5/25/2014.
The Rohr Aircraft Memories website is owned by Sue Poole.
Opinions expressed on these pages are not necessarily those of the site owner.
All content is ©2006-2020 Sue Poole unless otherwise credited or a vintage reprint.