Patrick Stevenson
Pat Stevenson
XR-1C Flight Test Technician

I was so surprised to find your site. I was digging through some old papers the other night and found my SES ID card. My wife, who also worked at Rohr, suggested that I look on the Internet to see if the XR-1C was on there. I told her it was a waste of time but she insisted. Having been married for 52 years, I learned not to argue. I Googled XR-1C and your site came up! I went to work at Rohr after three tours of duty in Viet Nam and leaving the Navy. I was an Electronics Technician so I got hired pretty easily. As I recall, my boss's name was Nick Nickens. All Techs were in one group and supported whatever project needed someone. I was assigned primarily to the XR-1C as a Flight Test Technician. My seat was just behind the cockpit and slightly elevated. You can see the canopy very clearly on the XR-1D Photo. I think I rode every test flight in '73-74. I have MANY great stories of those days. In looking at the XR-1D picture, I found one name that I remember; Henry Redmon. I'd love to get in touch with him and compare stories! My ID is pretty worn, but my name was either Pat or Steve Stevenson, which depended on whether I use my Navy name which was Steve. My real name is Patrick Stevenson. Notice that my card number was 12, which put me at the beginning of the program as an original crew. My wife worked on harnesses for the P-3 Orion sub chaser. Ironically, I later re-enlisted in the Navy and was assigned as an In-Flight Technician on P-3's stationed at Barber's Point, Hawaii in VP-1. I'm going to take the time to write some very funny stories of things that happened while working on the XR-1C and send them along in the next couple of weeks. I also worked on the Hover Train, and the Mass Transit Bus. Anyway, it's great to have someplace to put my memories of a really fun and exciting time in our lives. I am so grateful that you have taken the time to chronicle an awesome place to work way back then. Thanks for the picture of the XR-1C. That's the ONLY picture I have of that craft. When I see the Navy having a Destroyer class ship using the technology that we started it's wonderful. I tell people that I WAS THERE AT THE START they just look at me like I'm just telling stories. Now I can show my ID and direct them to your site. BTW, I'll also send my wife's story of here time there. Although my first ten years of service was Navy, I spent another twenty years in the Army, from which I retired..
Submitted by Pat Stevenson, 1/30/2019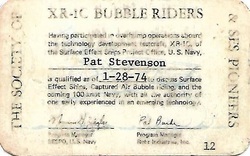 The Rohr Aircraft Memories website is owned by Sue Poole.
Opinions expressed on these pages are not necessarily those of the site owner.
All content is @2006-2019 Sue Poole unless otherwise credited or a vintage reprint.