James Newton Copeland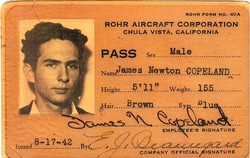 James Copeland began his employment at the Rohr plant in Chula Vista in August of 1942.
The Rohr Aircraft Memories website is owned by Sue Poole.
Opinions expressed on these pages are not necessarily those of the site owner.
All content is ©2006-2018 Sue Poole unless otherwise credited or a vintage reprint.
Last updated: 08-31-2018