Zaidee L. "Peggy" Reed
Zaidee Laurene "Peggy" Reed was born January 5, 1914 in Cambridge Springs, Pennsylvania to Allen and Mable Drake. She moved to Riverside in the late 1950s. She was married to Albert Millett, and later was remarried to Charles Reed. Peggy worked in Department 44, Trim and Drill. Her job was de-burring parts. Peggy worked at Rohr almost 20 years, and retired in March of 1976. She passed away on February 28, 2009 in Vacaville, California.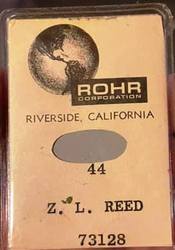 Submitted by Mandy Millett, granddaughter, May 22, 2020.
Peggy at her Rohr retirement party.
The Rohr Aircraft Memories website is owned by Sue Poole.
Opinions expressed on these pages are not necessarily those of the site owner.
All content is ©2006-2020 Sue Poole unless otherwise credited or a vintage reprint.