Rohr Chula Vista Open House. 25th Anniversary.
Rohr Chula Vista Open House
25th Anniversary


Open house leaflet that was given to those touring the plant.
Click on images to enlarge.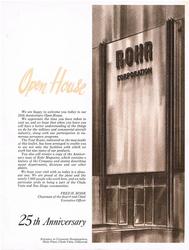 The Rohr Aircraft Memories website is owned by Sue Poole.
Opinions expressed on these pages are not necessarily those of the site owner.
All content is ©2006-2016 Sue Poole unless otherwise credited or a vintage reprint.