Fred H. Rohr
Frederick Hilmer "Pappy" Rohr
see also: Salute to Pappy
see also: Rohr Industries, Inc. A Pioneer in Aeronautics - September 1990
Rohr News, November 16, 1965


As an employee at Ryan Aeronautical Company Fred Rohr was a sheet metal foreman working on Charles Lindbergh's Spirit of St. Louis. His team hand-formed the cowling, fairings, and gas and oil tanks. He was one of 'the Nighthawks' that worked many nights to complete the final assembly of Lindbergh's plane. Fred later remarked "I'm proud because the first cowling I ever made is in the Smithsonian Institution, I mean the cowling on the Spirit of St. Louis. I made it and it's in the Smithsonian" (Rohr, 1990).
Fred Rohr and four of his associates found Rohr Aircraft Corporation on August 6, 1940 in his San Diego garage. Rohr served as President and General Manager. He believed that there "was a clear role in this surging aircraft industry for a manufacturing subcontractor that could provide the prime aircraft builders with major structural assemblies" (Rohr, 1990).
He served as President from 1940-1956 (Rohr, 1990).
He was Chairman of the Board from 1956 until his death in 1965 (Rohr, 1990).
Sources:

Rohr Industries, Inc. A Pioneer in Aeronautics, 1940-1990. September, 1990.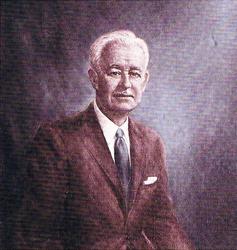 Source: Rohr Industries, Inc. A Pioneer in Aeronautics, September 1990.
The Rohr Aircraft Memories website is owned by Sue Poole.
Opinions expressed on these pages are not necessarily those of the site owner.
All content is ©2006-2018 Sue Poole unless otherwise credited or a vintage reprint.