Rohr - Chula Vista
Rohr Aircraft Memories


a website for Rohr Retirees and Former Employees

home | Arkadelphia | Arlington | Auburn | Brown Field | Cape May | Cerritos | Chula Vista | Clark | Delaware | Edgemont | Evergreen
Fairhope | Foley | Fresno | Garland | Hagerstown | Hamburg | Heber Springs | Huntsville | Irvine
Los Angeles | Loudenville | Mexico | Millersburg | Mira Loma | Moreno Valley
Paris | Richmond | Riverside | Rockville | San Diego | San Marcos | Scotland | Sheridan | Singapore | Toulouse | Washington D.C. | Winder
Advanced | Aircraft | Antenna | Architectural | Communications | Computer | Construction | Credit Union | Marine | Material | Postal | Rail | Space | Transit
Bibliography | Guest Book | Looking For... | Memorabilia | People | Rohr, Fred | Rohr Manor | Timeline
AeROHRcrafter | Rohr Magazine | Rohr News | News Clippings | Contact Us



Rohr Chula Vista, California
Rohr Industries, Inc.
Main Plant and Corporate Headquarters
Principal plant - owned

See also: Rohr Chula Vista

With Fred Rohr's experience as a factory manager and developing a punch-and-die "drop hammer" system at Solar Aircraft Company, working as a sheet metal engineer at Boeing, and working at Ryan Aircraft in San Diego, Rohr started his own company, Rohr Aircraft Company, August 6, 1940.

Rohr and two former engineers from Ryan Aircraft started the company out his garage. Their first contract was with Consolidated Aircraft Corporation building Sperry bombsights, and then one for building cowlings for Lockheed. This new business soon had to get new factory space - a 37,500 square foot building.

Chula Vista's population in 1940 was about 4,000 but by 1955 had increased to 30,000 due to Rohr's growth (Austin, 1969).
In 1952, Rohr Aircraft purchases and occupies the Eagle's Hall building in Chula Vista. The building's interior space is modified to accommodate small offices and partitions. The west facade is covered with heavy stucco and wrought iron light fixtures were added (McMillan, 2011).

The Chula Vista facility included offices, manufacturing, warehouses, and research and testing and was approximately 2,789,000 square feet and 98.5 acres (Rohr, p. 51).

In 1958, Rohr Chula Vista began providing on-site medical services. The Medical Department had two surgery and examination room, and an X-ray room (Rohr, 1987).

In 1966, Rohr Chula Vista added 143,800 for three warehouse buildings and 18,200 square feet for additional engineering space. "By the end of the fiscal year, employment was at the 9,432 mark at corporate headquarters at Chula Vista" (Rohr Corporation 1966 Annual Report, p. 22).

Iin 1967, Rohr Chula Vista added "179,000 square feet of production space, 56,000 square feet of automated warehousing and large conventional storage facilities" (Rohr Corporation 1967 Annual Report, p. 20).

In 1970, a 137,000 square foot facility was built in Chula Vista "to build BART rail cars for the San Francisco transportation system" (Rohr, 1987).

"Throughout 1975, production of rocket motor components for the Titan III continued at both" Chula Vista and Riverside plants (Rohr, 1975, p. 6).
In December of 1986, a cogeneration plant began producing electricity, steam and chilled water (Rohr Industries, Inc. 1987 Annual Report, page 32).
Adjacent to the plant, a 35,000 square foot building was acquired to accommodate rearrangements. A 75,000 square foot customer support complex was leased (Rohr Industries, Inc. 1987 Annual Report, page 19).

By 1990, Rohr Chula Vista was employing 6,400 people. It engaged in metal fabrication, engineering, research and development and customer support (Rohr, 1990).

In 2007 the Port of San Diego began the final phase of demolishing the remaining 15 buildings that were once owned by Rohr. The site was being redeveloped for a hotel and convention center (The San Diego Union Review, 2007).

Sources:

Rohr Industries, Inc. 1975 Annual Report.


What are some of your memories of working at Rohr in Chula Vista? Please send in your photos and stories to Sue at poole.sue@gmail.com so that we can post them here. Thanks!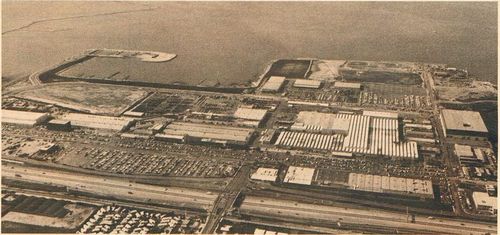 Chula Vista plant, circa 1982.
The Rohr Aircraft Memories website is owned by Sue Poole.
Opinions expressed on these pages are not necessarily those of the site owner.
All content is ©2006-2020 Sue Poole unless otherwise credited or a vintage reprint.