Rohr Fresno
Rohr Fresno, California
In January of 1943 Rohr needed more manpower to meet their production schedules so they purchased the Standard Sheet Metal Works in Fresno, California where there was an adequate labor supply. Rohr leased the adjacent fruit packing building to use for manufacturing small parts. They cleaned out the fig packing building, began operations and within a few weeks were employing 1,000 workers (Austin, p. 29, 1969).
WillieLee Goff Myatt in her work outfit at Rohr Fresno. Submitted by her daughter Linda Myatt Durham, January 7, 2013.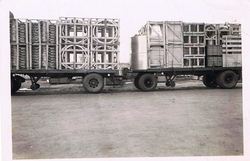 World War II airplane parts on truck bed at Rohr Fresno. Submitted by Linda Myatt Durham, January 7, 2013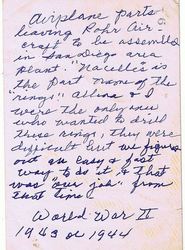 Airplane parts leaving Rohr Aircraft to be assembled in San Diego area plant. "Nacelles" is the part name of the "rings." Aleena & I were the only ones who wanted to drill these rings, they were difficult but we figured out an easy & fast way to do it & that was "our job" from that time. World War II 1943 or 1944. ~ written on the back of the photograph above by WillieLee Myatt. Submitted by WillieLee's daughter, Linda Myatt Durham 1/7/2013
The Rohr Aircraft Memories website is owned by Sue Poole.
Opinions expressed on these pages are not necessarily those of the site owner.
All content is ©2006-2020 Sue Poole unless otherwise credited or a vintage reprint.