Rohr Auburn

"As you head south away from the busy boat yards and loading docks of downtown Seattle, you will find yourself driving on a four-lane highway that invades the lush green forests of Washington. You almost feel like an intruder into a pristine land of huge fir trees, beautiful ferns growing wild along the roadside, and expansive gree meadows. And just 20 miles south of urban Seattle, you find yourself in a rustic little town where handsome old homes line the rural roads. You can ask anyone in this town of 23,000 where the Rohr plant is and they will be able to tell you. Rohr's Auburn plant exudes the same rural aura as the rest of the town. The people are hard working and friendly, and the grounds and work areas reflect the compact, efficient operations of some 200 employees who work here." ---- Rohr News, September 24, 1979

After Rohr's success in Winder, Georgia, Rohr "established an engine build up facility for Boeing-- supplying aft fuselage section for the 707" two miles south of Auburn, Washington (a suburb south of Seattle) in 1956 which opened in 1957 to better serve Boeing customers in Seattle, Renton and Everett. Former Auburn mayor and Boeing engineer Wayland Scarff met with Fred Rohr and Joe Rheim and "arranged for an option on the 80-acre tract the Company later acquired, making certain that adequate utilities, such as water, light, power, sewage outlets, and access roads would be available." The building Rohr occupied and leased was a former box factory near Boeing's Renton facility. Later the company would build a 39,000 square foot plant on the property. In 1969 the plant grew to 105,000 square feet (Kepos, 1994; Austin, 1969; Barron's, 1957, p. 36; Rohr, 1987; Douglass, 1992; Rohr News, September 24, 1979, p. 1).

The Seattle Times stated that this 'plant will assemble "power packages" -- engines, cowlings and accessories -- for Boeing KC-135 jet tankers and Model 707 jet transports. The first unit of the plant, a 33,000-square-foot structure, is expected to be completed next fall. Rohr will begin operationsin a leased building in Auburn. The plant is expected to require a payroll of 200 to 500 persons' (June 25, 1956).

In 1970 when "the 747 program involving Pratt & Whitney engines" began the Auburn plant qualified to receive an FAA AIr Agency Certificate for removing and replacing basic engine modules and incorporating changes" (Rohr News, September 24, 1979, p. 1)

Rohr Riverside's 1980s Handbook for Salaried Employees stated that the Auburn facility does final assembly on engine subsystems for The Boeing Company." "It also prepares tubing and assembles electrical wiring for engine systems. The 112,000 square-foot facility is located 24 acres south of Seattle" (Rohr, 1987).

By July 1989, Rohr Auburn was employing 142 people (Douglass, 1993, p. C1).

In 1990 Rohr Auburn was employing 180 people (Rohr, 1990).

By August 1992, Rohr Auburn was employing 146 people (Douglass, 1993, p. C1).

In 1992, "Rohr made the decision to close its Auburn, Washington plant and transfer out manufacturing operations" (Rohr News, August 1995, p. 8). Rohr "announced it will close its 170-employee, Auburn, Wash., plant within four months and move work to other plants. Rohr would not say if any of the work would be brought to Chula Vista" (Douglass, 1992).

Rohr closed the Auburn facility in the early 1990's to improve production efficiency and to increase the use of it's other facilities. Rohr closed the Auburn plant in fiscal year 1993 and proceeded to sell it (Rohr, p. 23, 29).

What are some of your memories of working at Rohr in Auburn? Please send your photos and your stories to sue@rohrmemories.com so that we can post them here. Thanks!

References:
Douglass, E. (1992, May 22). Rohr hit by big loss in quarter. The San Diego Union - Tribune, pp. C.1. Retrieved from Proquest July 29, 2011.
Douglass, Elizabeth. "Rohr Still Pays for Heyday's Decisions." The San Diego Union-Tribune, 24 Aug. 1993, pp. C1–C2.
Rohr Magazine (1958, May-June).
Rohr News, August 1995, page 8.
Rohr Auburn: Small plant with big job. Rohr News, September 24, 1979.
The Seattle Times. (1956, June 25).

See also:
"18 - and Still Growing: New Orders and Expanded Facilities Send Year's Sales to Record Total." 1958. Rohr Magazine 8, no. 11: 3–6.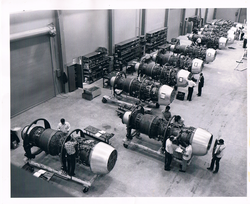 "Plenty of Power: In Auburn yesterday --Jet engines were lined up in Rohr Aircraft Corp's new $500,00 plant for assembly into "power packs" -- or engine units -- for Boeing KC-135 jet Stratotnkers and Model 707 jet transports, in production at Boeing's Renton plant. Rohr employs 70 persons at the plant, but the payroll is expected to to climb to more than 150 within the next 12 to 18 months. Operations began in the Auburn assembly plant this week." (Press photo dated 6/7/1957.)
Opinions expressed on these pages are not necessarily those of the site owner. All content is ©2006-2023 Rohr Aircraft Memories unless otherwise credited or a vintage reprint. All rights reserved. Unauthorized use of material is prohibited. Contact Sue with questions or comments. Website address: rohrmemories.com Last updated: 09-17-2023