Rohr Manor
Rohr Manor Motel was located across from the Chula Vista Shopping Center. Amenities included a heated swimming pool, room phones, 21" televisions, and air conditioning. It was also AAA approved.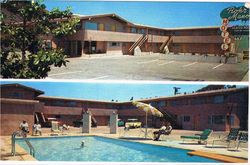 The Rohr Aircraft Memories website is owned by Sue Poole.
Opinions expressed on these pages are not necessarily those of the site owner.
All content is ©2006-2019 Sue Poole unless otherwise credited or a vintage reprint.
Last updated: 08-18-2019