Everett Foster

Everett Foster
Rohr Auburn

Dear Sue,
Thank you for your efforts on keeping the Rohr Memories alive..I am Everett Foster, and I worked at the Auburn, Washington plant for about 14 years as a Material Control Supervisor, and am still getting my monthly check. Yea!!.. I am now 87 years old and have great memories of the plant, ( some are real, ha)the and great folks that worked there and how well everyone was connected like family…I can honestly say, they were some of the best work years of my life…There was always something planned for family activities, like picnics, bowling, baseball and most all participated at some level. We at Auburn, worked most closely with Riverside, and not so much with Chula Vista. I did however have the honor and privilege of meeting Mr Rohr at an awards ceremory, but can't exactly remember what it was for?. After leaving Rohr, I had the opportunity to work in several states and countries. I do have a couple of pictures that I will forward also..
That was a long time ago, 60+ years, Here are some of the ones I remember. Jack Thompson, Harry Goodell, Ted Shutte, Claude Brown, Janet, Pat, Ernie Bailey, in contracts and Material Control, Bob and Helen Mitchell, Jake Zodrow, Carl Stanzione, Burr and Marion Donaldson, Jake Ulmer, Bill and Jean Irey, Bob Lanphere, Gerry Lanphere, John Bohren, Beverly Bailey, Chuck in receiving, Pat Cox, "bud' Cox, Nolan Attwood, Mrs. Attwood,(Jack Thompson's secretary), Stan Hyatt in expediting, Jack Vanderpool, Mackie Mccalister, Marilyn in QEC department, John in receiving Inspection, the youngest Material Control supervisor in the company, me, Everett Foster. I was on 24 hour call by Boeings and the major Airlines and was in charge of A.O.G. fulfillments. Lots of nights I would leave the house and go to the plant get the part, do the paperwork and deliver it to SeaTac, and no one knew..Then later I had to call Gerry Lanphere our truck driver to make the delivery. Any Boeing Airplane that needed a part that we supplied, I got the call..I had memorized every installation and part number that we supplied, of all three makes of engines, Pratt and Whitney, Ford, and Rolls Royce…All the line mechanic at the airport had to do was tell me what he needed, i.e. water pump, Tranducer, CSD, ect., and I could tell him the part number and the installation it went in to…those were good ole' days…maybe I can remember more after I spur the mind a little..As I recall more names, I will gladly send them on…As a last note, Jack Thompson and Harry Goodell were two of the finest men I have met in all my career days.
Regards,
Everett Foster
Ev Foster, Rohr Corporation Buyer, outlines cost reduction effected by his use of Chlorothene VG. His analysis shows savings of more than $2,000 per year per degreasing unit.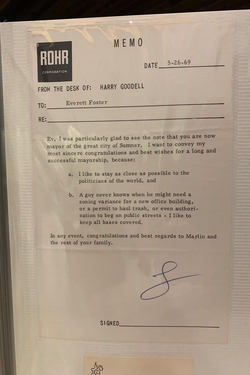 Submitted by Everett Foster, January 18, 2021.

Opinions expressed on these pages are not necessarily those of the site owner.
All content is ©2006-2022 Rohr Aircraft Memories unless otherwise credited or a vintage reprint.
All rights reserved. Unauthorized use of material is prohibited.
Contact Sue with questions or comments. Website address: rohrmemories.com